SNOWFLAKE Owen Jones has Twitter MELTDOWN over 'offensive' magazine cover!
It appears that all is not well in liberal luvvie land as Owen Jones and Matt Kelly, editor of the pro-EU newspaper The New European  have been engaged in a massive twitter spat with Owen accusing them of being 'homophobic'!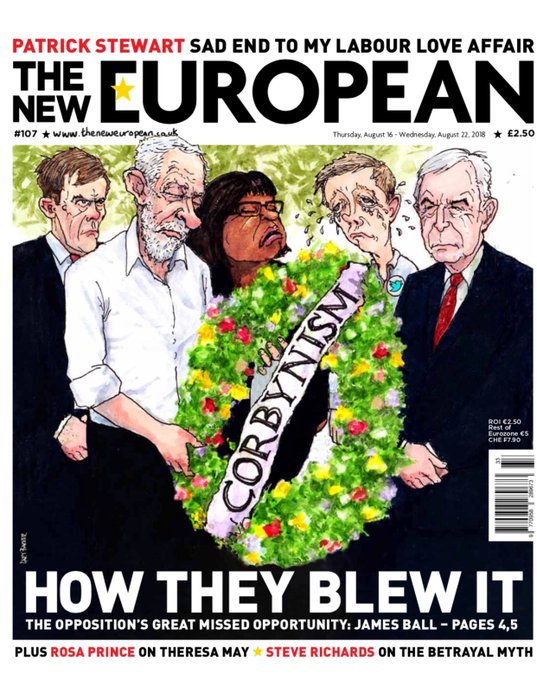 The New European responded to Owen's initial tweets of anger by stating that Owen "often acts like a tantrum throwing cry baby". Owen then went on to argue that by having him crying in the artwork was due to being anti-gay!
What this does expose at the heart of the metropolitan luvvie fest is a deep unease over the Labour situation on Brexit. Corbyn is a lifelong eurosceptic who knows fine well the economic damage done to the UK by the EU. However with the wreath laying and anti-semitism scandal engulfing him he has been forced to reach out to more 'moderate' voices within the Labour Party.
These voices are seeking to steamroller the Labour Party into backing another second referendum which would be a huge betrayal of the many millions of working class Labour voters who backed Brexit.
The pressure is obviously getting to Owen Jones who has now become Corbyn's number one fanboy despite opposing him at the start. However if the Labour Party do end up supporting a second Brexit referendum then they will never be forgiven for their Brexit Betrayal.
For all the best Pro-UK news please scroll down and in the box SUBSCRIBE! Please also have a look at some of our other topical UK articles on our site