Europe ROCKED as election sees COLLAPSE of liberal Sweden
The Swedish general election results have been counted and it has seen the two main political groups almost tied, with the anti-immigration Sweden Democrats making significant gains although not as well as hoped for.
The nationalist Sweden Democrats (SD) have won about 18% of the vote, up from 12.9% in the previous election.
Sweden uses a Proportional Representation system and it will take weeks of intense of negotiations to now form a new government.
Both of the main groups have ruled out working with the SD, although its leader said he was prepared to talk with all other parties.
He had hoped to gain the support of one in five, or even one in four, Swedes, which some polls had also predicted. However, the results were closer to one in six.
Other European nations have seen support continue to rise for anti-immigration parties in recent years. Italy now has a new coalition government run by the anti-establishment Five Star and the League. In 2017 Alternative for Germany won 12.6% of votes, whileThe Danish People's Party won 21% in 2015. This is despite onslaughts from the establishment and mainstream media against these parties.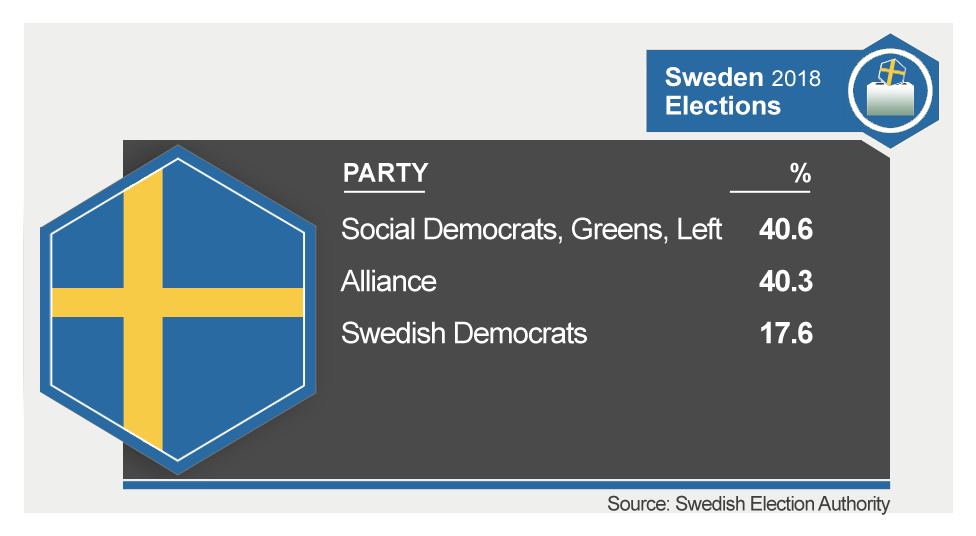 Sweden's ruling coalition, headed by outgoing PM Stefan Lofven, is made up of his Social Democrats and the Green Party, and is supported in parliament by the Left Party.
The centre-right Alliance is made up of four parties. Its candidate for PM is Ulf Kristersson, head of the Moderates. He said the ruling coalition had run its course and should resign.
Lofven was defiant last night saying: "We have two weeks left until parliament opens. I will work on calmly, as prime minister, respecting voters and the Swedish electoral system."
PATRIOTIC PRODUCTS HELPING A VARIETY OF CAUSES NOW AVAILABLE! CLICK THE IMAGE BELOW TO SEE MORE INFO:
Both the Social Democrats and the Moderates saw their percentage of the vote fall, as the SD and smaller parties picked up votes. However, even the SD performance was down on what some opinion polls had suggested.
Immigration has been a central issue of the campaign. The SD is seeking strong curbs on immigration. Mr Lofven has described it as "racist".
Traditionally appealing to working-class men, it wants to attract more women and higher-income voters.
Sweden's economy is booming but many voters are concerned that housing, healthcare and welfare services have come under pressure from a wave of immigration during the 2015 migrant crisis.
That year Sweden took in a record 163,000 asylum seekers – the highest such intake in the EU, per head of population. Sweden's traditional parties have since hardened their tone to reflect concerns about integration.
Many voters are also concerned about violence. The SD links a rise in shootings to increased immigration, although official figures show no correlation. Torching of cars as well as Rapes, Grenade attacks and Acid Attacks have rocketed yet this does not appear to have been enough for the Swedish to make any dramatic change.
Patriotic shop for all your remembrance day badges and Christmas gifts! Check it out here:
Click the image below to visit the Unity Shop for patriotic badges and other products: