The 75th session of the UN General Assembly (UNGA 75) opened on Tuesday, 15 September 2020. 
UN Member States agreed in June 2019 that the UN will mark its 75th anniversary with a one-day, high-level meeting of the UN General Assembly on Monday, 21 September 2020 on the theme,  'The Future We Want, the UN We Need:  Reaffirming our Collective Commitment to Multilateralism'.  
They also planned a Youth Plenary related to the 75th anniversary, and to hold observance ceremonies to commemorate the signing of the UN Charter on 26 June 2020 and UN Day on 24 October 2020. https://www.un.org/en/un75/commemoration/young-representatives
The declaration adopted at the high-level meeting on 21 September was agreed in July 2020. 
Due to the COVID-19 pandemic, the event took place in a virtual format, with pre-recorded statements by heads of state and government. 
Remarks by President Trump to the 75th Session of the United Nations General 
"It is my profound honour to address the United Nations General Assembly.
Seventy-five years after the end of World War II and the founding of the United Nations, we are once again engaged in a great global struggle. We have waged a fierce battle against the invisible enemy — the China virus — which has claimed countless lives in 188 countries.
In the United States, we launched the most aggressive mobilization since the Second World War. We rapidly produced a record supply of ventilators, creating a surplus that allowed us to share them with friends and partners all around the globe. We pioneered life-saving treatments, reducing our fatality rate 85% since April.
Thanks to our efforts, three vaccines are in the final stage of clinical trials. We are mass-producing them in advance so they can be delivered immediately upon arrival.
We will distribute a vaccine, we will defeat the virus, we will end the pandemic, and we will enter a new era of unprecedented prosperity, cooperation, and peace.
As we pursue this bright future, we must hold accountable the nation which unleashed this plague onto the world: China.
In the earliest days of the virus, China locked down travel domestically while allowing flights to leave China and infect the world. China condemned my travel ban on their country, even as they cancelled domestic flights and locked citizens in their homes.
The Chinese government and the World Health Organization — which is virtually controlled by China — falsely declared that there was no evidence of human-to-human transmission. Later, they falsely said people without symptoms would not spread the disease.
The United Nations must hold China accountable for their actions.
In addition, every year, China dumps millions and millions of tons of plastic and trash into the oceans, overfishes other countries' waters, destroys vast swaths of coral reef, and emits more toxic mercury into the atmosphere than any country anywhere in the world. China's carbon emissions are nearly twice what the U.S. has, and it's rising fast. By contrast, after I withdrew from the one-sided Paris Climate Accord, last year America reduced its carbon emissions by more than any country in the agreement.
Those who attack America's exceptional environmental record while ignoring China's rampant pollution are not interested in the environment. They only want to punish America, and I will not stand for it.
If the United Nations is to be an effective organization, it must focus on the real problems of the world. This includes terrorism, the oppression of women, forced labor, drug trafficking, human and sex trafficking, religious persecution, and the ethnic cleansing of religious minorities.
America will always be a leader in human rights. My administration is advancing religious liberty, opportunity for women, the decriminalization of homosexuality, combatting human trafficking, and protecting unborn children.
We also know that American prosperity is the bedrock of freedom and security all over the world. In three short years, we built the greatest economy in history, and we are quickly doing it again. Our military has increased substantially in size. We spent $2.5 trillion over the last four years on our military. We have the most powerful military anywhere in the world, and it's not even close.
We stood up to decades of China's trade abuses. We revitalized the NATO Alliance, where other countries are now paying a much more fair share. We forged historic partnerships with Mexico, Guatemala, Honduras, and El Salvador to stop human smuggling. We are standing with the people of Cuba, Nicaragua, and Venezuela in their righteous struggle for freedom.
We withdrew from the terrible Iran Nuclear Deal and imposed crippling sanctions on the world's leading state sponsor of terror. We obliterated the ISIS caliphate 100%; killed its founder and leader, al-Baghdadi; and eliminated the world's top terrorist, Qasem Soleimani.
This month, we achieved a peace deal between Serbia and Kosovo. We reached a landmark breakthrough with two peace deals in the Middle East, after decades of no progress. Israel, the United Arab Emirates, and Bahrain all signed a historic peace agreement in the White House, with many other Middle Eastern countries to come. They are coming fast, and they know it's great for them and it's great for the world.
These groundbreaking peace deals are the dawn of the new Middle East. By taking a different approach, we have achieved different outcomes — far superior outcomes. We took an approach, and the approach worked. We intend to deliver more peace agreements shortly, and I have never been more optimistic for the future of the region. There is no blood in the sand. Those days are, hopefully, over.
As we speak, the United States is also working to end the war in Afghanistan, and we are bringing our troops home. America is fulfilling our destiny as peacemaker, but it is peace through strength. We are stronger now than ever before. Our weapons are at an advanced level like we've never had before — like, frankly, we've never even thought of having before. And I only pray to God that we never have to use them.
For decades, the same tired voices proposed the same failed solutions, pursuing global ambitions at the expense of their own people. But only when you take care of your own citizens will you find a true basis for cooperation. As President, I have rejected the failed approaches of the past, and I am proudly putting America first, just as you should be putting your countries first. That's okay — that's what you should be doing.
I am supremely confident that next year, when we gather in person, we will be in the midst of one of the greatest years in our history — and frankly, hopefully, in the history of the world.
Thank you. God bless you all. God bless America. And God bless the United Nations."
Remarks by Prime Minister Boris Johnson to the 75th Session of the United Nations General
In a video message to the General Assembly's General Debate today (26 Sep), British Prime Minister Boris Johnson pledged a 30%increase in funding the World Health Organization. 
He said, "the UK supports the efforts of the World Health Organization and of my friend, Tedros, to explore the aetiology of the disease, because however great the need for reform, the WHO, the World Health Organization, is still the one body that marshals humanity against the legions of disease." 
He went on to state, "with nearly a million people dead, with colossal economic suffering already inflicted and more to come, there is a moral imperative for humanity to be honest and to reach a joint understanding of how the pandemic began, and how it was able to spread."  He explained that it is "not because I want to blame any country or government, or to score points. I simply believe – as a former COVID patient – that we all have a right to know, so that we can collectively do our best to prevent a recurrence." 
He also outlined a new global approach to health security based on a five-point plan to protect humanity against another pandemic. His plan includes a global network of research hubs, more vaccine manufacturing capacity, a global pandemic early warning system and secure supply chains that call for reducing export tariffs imposed at the start of the COVID-19 pandemic.  He  urged every country to "lift the export controls wherever possible – and agree not to revive them – and cancel any tariffs on the vital tools of our struggle: gloves, protective equipment, thermometers and other COVID-critical products." 
He stated, "the UK will do this as soon as our new independent tariff regime comes into effect on 1st January and I hope others will do the same." 
The comments were pre-recorded and aired in the General Assembly Hall as previously agreed by the General Assembly in light of the COVID-19 pandemic. 
Despite the inability to gather world leaders in New York as customary, this year's General Debate will witness the largest-ever participation of heads of states and government in UN history.
Watch full speech here…..https://www.youtube.com/watch?v=xW7hnZFV84M
Analysis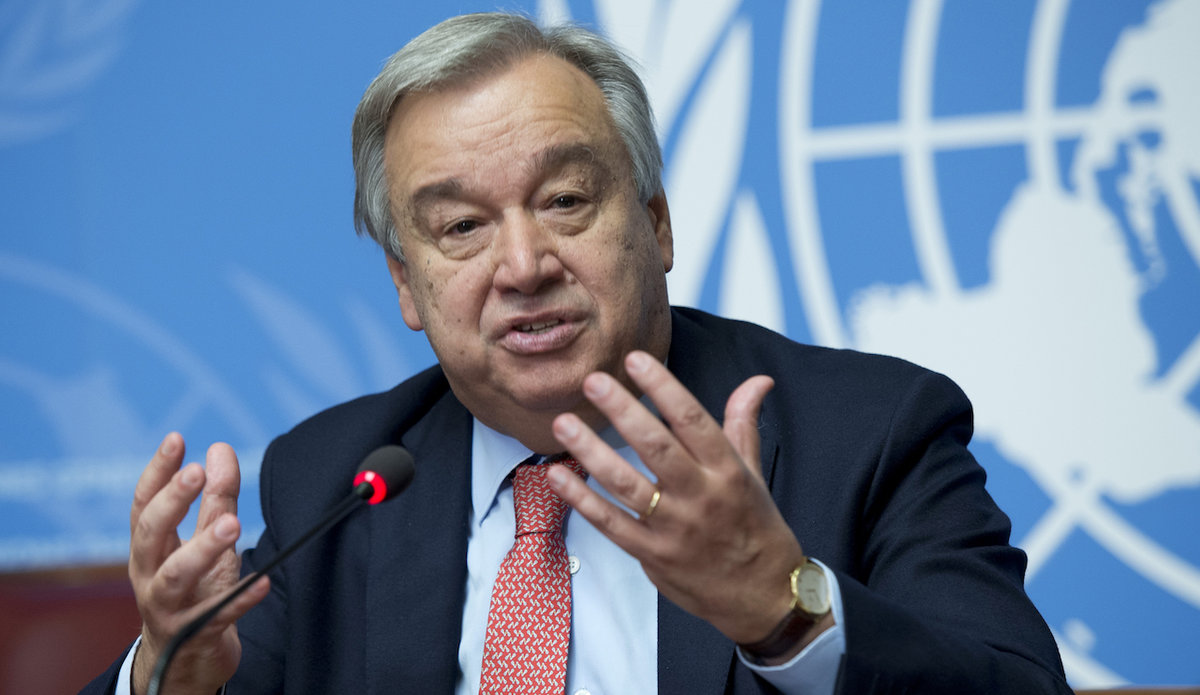 António Guterres the Secretary-General of the United Nations at a recent press conference, called for a multilateral level of governance with the teeth to function as an instrument of global governance.   We must reimagine the way nations cooperate there is a widespread and increasing distrust of national governments, "inequality, discrimination, corruption and lack of opportunities that need to be addressed, including with a renewed social contract.
The "New Normal"/"Great Reset" is being rushed through via the Covid "Crisis" and the Climate "Crisis" https://www.youtube.com/watch?v=u5pxhSnDr4U
If I were a conspiracy theorist I might just believe these crises were "created" to justify the UN's existence, undermine national governments and increase their financial power structure and build a United Nations led New World Order.
Problem – reaction – solution – but that would plain crazy – wouldn't it?
https://www.un.org/en/un75/commemoration 
https://www.whitehouse.gov/briefings-statements/remarks-president-trump-75th-session-united-nations-general-assembly/
https://sdg.iisd.org/events/75th-session-of-the-un-general-assembly-unga-75/
http://sdg.iisd.org/news/un75-declaration-finalized-following-silence-procedure/
https://www.un.org/en/coronavirus/world-work-cannot-and-should-not-look-same-after-crisis
https://unitynewsnetwork.co.uk/opinion-agenda-21-the-great-global-reset/
https://unitynewsnetwork.co.uk/the-strong-cities-network-a-global-police-force-controlled-by-the-united-nations/
https://unitynewsnetwork.co.uk/un-calls-for-global-governance-problem-reaction-solution/
https://unitynewsnetwork.co.uk/what-is-the-united-nations-agenda-30-and-how-does-it-impact-you/
I fell into politics quite by accident in 2014 and all because my local County Council brought in a policy switching off street lighting overnight my elderly neighbours felt vulnerable – this spurred me into action and the Right to Light Campaign was born.
I started the Right to Light Petition which garnered over 11,000 signatures enough to trigger a debate at Kent County Council.  I delivered a speech in front of 88 Councillors and journalists but they refused to listen to the people and kept the lights off.
I worked closely with a local journalist who followed the campaign from start to finish, publishing articles on an almost weekly basis.
Word spread about the campaign and the Council's refusal to listen – my phone became a hotline, I was invited onto BBC Breakfast and live radio something I would never have contemplated happening in a million years.  Following a fierce 2 year battle and against all the odds streetlighting was restored throughout Kent.
Spurred on by success and having witnessed how badly represented people were at local level I joined UKIP standing as a candidate in Borough and County elections narrowly missing out on a seat by 22 votes on one occasion.
The run-up to the EU Referendum was an exciting time I joined the Grassroots Out Campaign and ran weekly street stalls delivering thousands of leaflets and meeting hundreds of people including Nigel Farage and Gerard Batten.  I loved the buzz and the fun was infectious.  I have been hooked ever since.
I became a prolific poster on Facebook building up relationships in many groups, I was approached by the owner of a Website/FB page called Fortis est Veritas asking if I would like to write articles to post on his platform.  I have to date written 22 articles and really enjoy documenting the twists and turns of Brexit a very exciting time – we are writing history and it is essential that is fully documented.
I am very excited to now be given the opportunity to join the UNN family as a Political Analyst – the next chapter in a very exciting 5 years of my life.